Are You Smarter than a BCP 5th Grader? 2018
The Baltimore Curriculum Project (BCP) is pleased announce our seventh annual Are You Smarter than a BCP 5th Grader? fundraiser on Thursday, April 19, 2018 from 6:15pm – 8:15pm at City Springs Elementary/Middle School. City Springs was recently featured on the Ellen DeGeneres Show. This event is always fun & supports our 5 charter schools. Join us!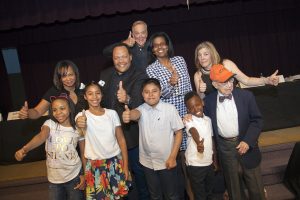 Are You Smarter than a BCP 5th Grader? features a quiz competition between BCP students and local celebrities. Past celebrities include: Dr. Sonja Santelises, Maria Harris-Tildon, Vytas Reid, Traffic Jam Jimmy, Senator Bill Ferguson, Gil Sandler and Maria Broom.
Past sponsors include: Venable, Nacho Mama's, FOX45, Chesapeake Employers Insurance, McGraw-Hill, Pompeiian, T. Rowe Price, EY, WYPR, St. Agnes Hospital, Summit Business Technologies, Coppermine Fieldhouse, Congressional Bank, M&T Bank, Gerry's Tire, Leonard Paper, MECU, Target and The Children's Bookstore.
BCP is the largest charter school operator in Maryland, serving over 2,700 children across five neighborhood charter schools: City Springs Elementary/Middle, Frederick Elementary, Govans Elementary, Hampstead Hill Academy and Wolfe Street Academy.
Get your ticket today! Sponsors are Welcome too.